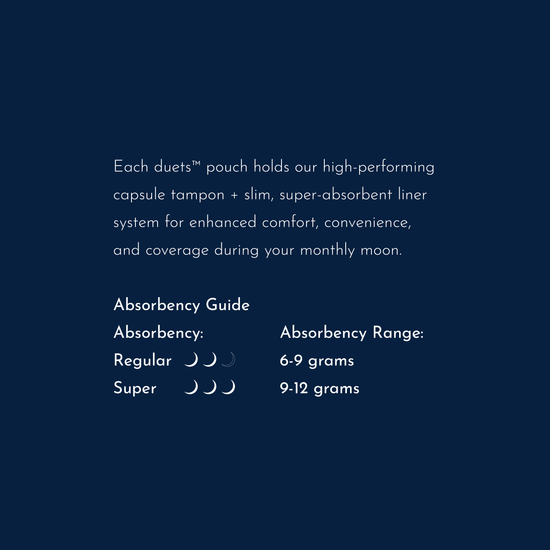 Save 50% on your first order of duets™!
$16

$8
This month is the perfect time to try duets™, the tampon + liner system designed by menstruators! Made in the USA & Canada, FDA & OBGYN approved, and perfect for sparing your undies from frustrating leaks.
The Details
What makes duets™ better
The tampon
Easy to insert and comfortable to wear, our capsule tampon has a sleek compact applicator and side-to-side expanding comfort core that adapts to properly fit your body.
The liner
Hard working and hardly noticeable, our thin liners catch leaks and keep you feeling protected with their super-absorbent core and flexible exterior layer. They are made to fit any style of undies and to stay securely in place.
The pouch
Uniquely built to hold both our tampon and liner, the duets™ pouch is made with a quiet touch polyethylene. A simple tear-away makes it easy to access both the capsule tampon and slim liner for streamlined coverage.
The levels of absorbency
duets™ come in two levels of absorbency, where the slim liner is the same but the tampon is regular or super. Since these are standardized measurements, they are consistent with tampon "sizes" you might already know.
The particulars
We only make products we ourselves use. (So, no icky stuff.) No toxins, no elemental chlorine bleaching or perfumes, and water-based inks only. And thanks to guidance and oversight from the FDA, you can be sure all our tampons meet the strictest of safety standards.
Backed by women's health experts.
Hear why gynecologist Dr. Paola supports the MOONS mission and recommends duets™ to her community.