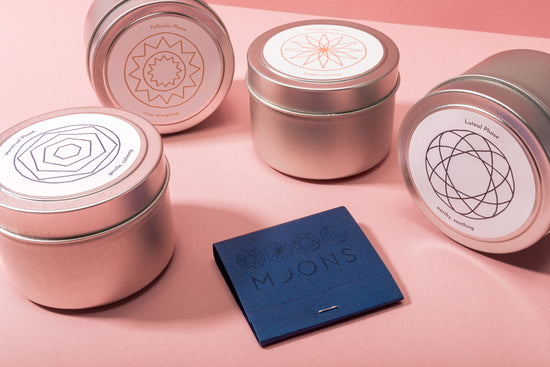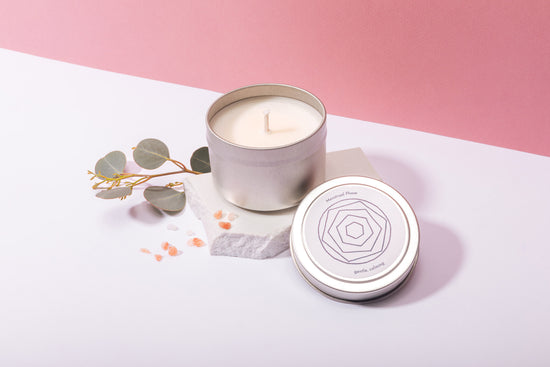 Light them in alignment with your moon,
or whenever you'd like a shift in ambience.
Candle 1 - Follicular Phase
Crisp and energizing, this fragrance was inspired by the rising feelings of confidence, positivity, and social energy that commonly accompany the follicular phases's rising levels of pre-ovulatory estrogen.
Scent inspired by spring, with the notes of bergamot, thyme, white tea, and chrysanthemum.
Candle 2 - Ovulatory Phase
Bright and inviting, this candle brightens up the room just as the estrogen peak of the ovulatory phase's fertile window commonly brightens moods, elevates senses, and heightens energy levels.
Scent inspired by summer, with notes of blood orange, bright grapefruit, cedar & bergamot.
Candle 3 - Luteal Phase
Earthy and soothing, this scent supports the rise then fall of progesterone during the luteal phase and the feelings of introversion, creativity, and coziness that commonly accompany it.
Scent inspired by earthy and herbal autumn, with notes of sandalwood, oak and sage.
Candle 4 - Menstrual Phase
Gentle and calming, this candle is designed to provide a sense of freedom and freshness that our bleeding days, when the body sheds the uterine lining and begins the cycle again, are often missing.
Scent inspired by winter, with mineral notes, linen, eucalyptus, sea salt and mandarin.
About phases
Aromatherapies designed to support hormonal and energetic shifts common to each of the four phases of the full menstrual cycle.
Each candle is poured in a portable and reusable 4oz. travel tin with lid, and burns for approximately 20 hours.

Handcrafted in collaboration with ILHA Candles, made with cotton wicks, natural soy wax, and toxin-free fragrances. Each candle is handled with care and hand-poured and packaged in small batches from ILHA's home studio.
Meet the Maker
ILHA Candles is an Asian American, female-founded company that proudly creates fragrant soy candles and a variety of home fragrance products, using natural products and toxin-free fragrances. The name 'ilha' comes from the founder's parents' native country of Taiwan. When Portuguese sailors came upon the island in the 1500s, they named it 'Ilha Formosa,' which means "beautiful island." In naming her company, she gives a nod to her heritage while connecting it to her life on another beautiful island, New York City.
Get to know duets™
50% of all tampon wearers have a leak each month. So, most of us wedge toilet paper in our undies for backup. Until now! Bye bye backup TP, hello duets™, the tampon + liner system that's designed by menstruators to catch the leaks. Finally, enjoy full coverage, convenience, and confidence (plus cute packaging that drops knowledge about your full cycle).